JanRod's Over Easy, CGC, WC, TDI

Bred by Janis I Grannemann
Wind-Morgan #1188, Hips- OFA LR 117488G27M-PI, Elbows- OFA LR EL 13942-PI,
OFA Heart Clear by Echocardiogram- LR CA431/104M/C-PI-ECHO at 8 1/2 years old
Optigen PRA Normal/Clear, # 01-1131
UMinn Dynamin-1 genotype E/N
Frozen semen available in limited quantities
Easy, my 'snow king' pictured below at almost 11 years old:
Photos below taken January 20, 2007, slim and trim at age 7 and a half: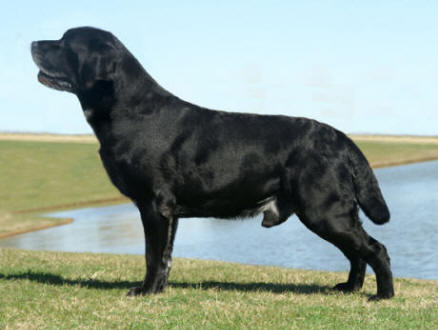 Easy is the start of it all at LegaSea. He came to me as an 18 month old, and at our first specialty together, he was RWD from the Novice class at DFWLRC in 2001! He went on to win several Open Black classes at specialties and supported entries, including WD/BOW under Breeder/Judge John Crook (Balrion) at the San Diego LRC's first specialty in November 2001. He was RWD the next day under Louise Blunt (Balrion UK) and won a nice Open Black class at San Joaquin Valley LRC under Jim Nolan (Veyatie) that spring. His show career was cut short with an torn biceps tendon and fractured foreleg in 2002, but he still went on to earn his WC in 2006. His temperament and type are seen for generations in my dogs.
Easy's daughter Diva, is my foundation bitch. She continued his specialty winning ways by going BOW at the 2006 National under Connie Barton and Virginia Lyne, and finishing two weekends later at HOTLRC under Jill Ickowski. She completed her JH four for four with no formal training and earned the Dog for All Reasons award at the 2006 National. She was awarded the Best Hunting Retriever Challenge Trophy and a JAM at San Diego LRC under Lisa Weiss (Lobuff). She has won numerous Best Veteran in Sweepstakes and Best Opposite Veteran in Sweepstakes and JAMs at specialties, including HOTRLC in 2010 less than a month before I lost her to mammary cancer.
Easy's son Dapper finished his championship with 5 majors, one of which was under breeder-judge Roy Cone and he finished his JH with no formal training. Dapper earned the DFWLRC Dog for All Reasons award in 2010.
We look forward to watching Easy's grand, great-grand and great-great-grand kids grow up, and hopefully linebreeding on him in the years to come!
Easy always loved puppies and never met a dog he didn't approach with a wagging tail.
He's pictured below with his great-great-grandson out of Julep just weeks before he passed.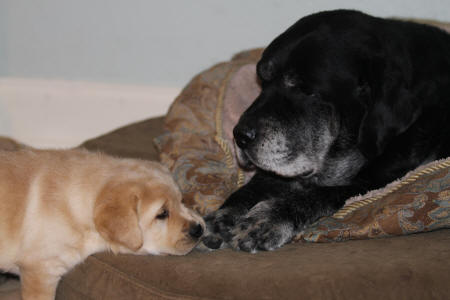 Easy at 2 years, March 2001... one of the only pictures I have from the old days of film, and before I knew what angle to photograph from!!
In the bluebonnets at 4 and 6 years old!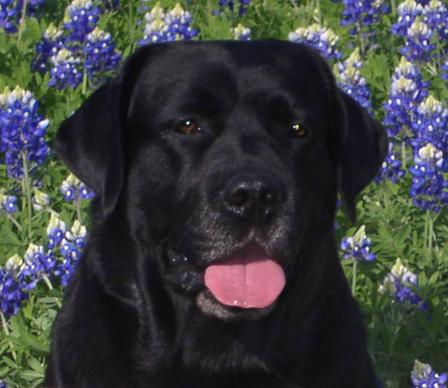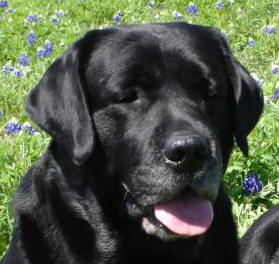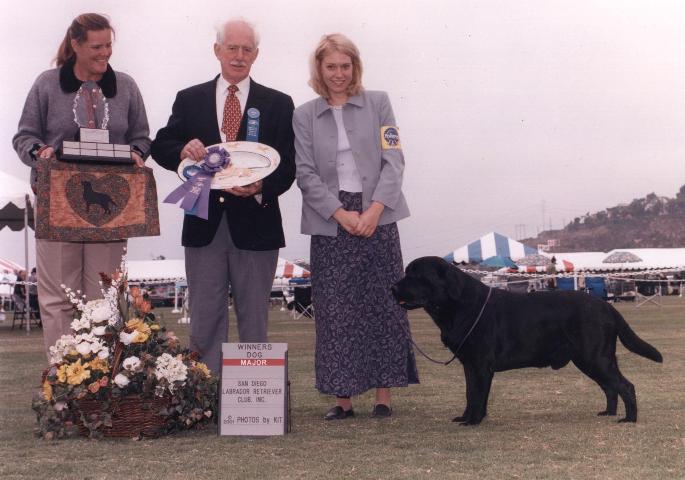 Easy taking his first major, owner handled, at the 2001 San Diego LRC Specialty under John Crook (Balrion)-- WD and BOW
BISS Ch. Dickendall Arnold

Ch.

Dickendall's

Ruffy

BISS Ch Receiver of

Cranspire

Ch. Cranspire Skytrain

Polly's Pride of

Genisval

Ch.

Moorwood

Jewel
Ch.

Eireannach

Black Coachman

Ch. Beaver

Lavinia

of

Moorwood

Dickendall

A-Ha

BISS Ch. Marshland Blitz

Am/Can Ch Allegheny Eclipse

Ch. Marshland Paisley

Broone

Dickendall

Rose Royce

Ch Briary Bracken

Raisin Kane of

Woodbrook

BISS Am, Int (FCI) Mex Ch. Janneka Way's Sunny Side Up, TT

Tweedledum

Brookland

Savoy

Guideline's Copyright

Eng

Sh

Ch

Rocheby

Royal Oak

Cambremer

Copy Cat

Ch.

Jayncourt

Jingle Jangle

Eng

Sh

Ch

Heatherbourne

Court Jester

Am/Can Ch

Heatherbourne

Forget Me Not

JanRod's

Kissing Cousins
BISS Ch

JanWood's

Tigger

Tremayne

Ch Franklin's Golden

Mandigo

CD

JanRod's Sunhill Cindra

JanRod's Sunshine Calypso

Ch. Mallard's Flying Cloud of JanRod, WC

JanWood's

All That Glitters
Easy's kids, Diva, Dapper, and Luxy can be seen on this site, as well as his granddaughters out of Diva, Aria, Beth, Gussie, Halle, and Twister; his grandsons out of Diva, Bonus and Buddy; his grandson by Dapper, Jack, granddaughter out of Gussie, Julep; grandson out of Gussie, Bugle, and grandson out of Twister, Duke.
Diva (Easy x Brodie daughter) Dapper (Easy x Major Decision daughter) Luxy (Easy x Major Decision daughter)
Easy and Ole in the Texas Bluebonnets, March 2005
Easy and his granddaughter Gussie, diving off the dock at our lake house: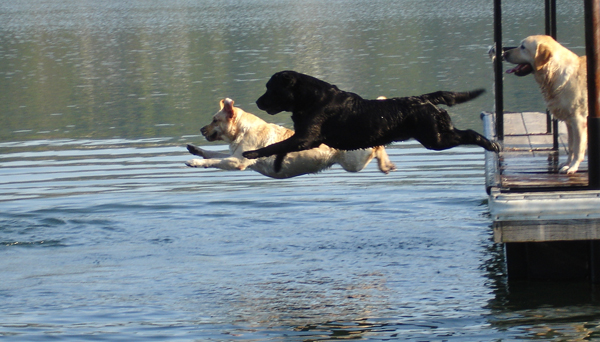 In September of 2009, Easy broke his tail and had to have it amputated. Below, he's jumping off the same dock as above, 3 and a half years later, January 2010:
EASY * DAPPER * BUGLE * DUKE * ABE * JOHNNY * BUNKER
ABOUT US * THE BOYS * THE GIRLS * PUPPIES
BRED BY * PHOTO GALLERY * PHOTOGRAPHY * LINKS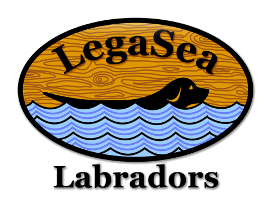 Copyright © 2003 - 2023 All rights reserved. The content on this website is not public domain.
Please do not download or copy our graphics.