Ch. Sureshot Hyspire Born Ready, JH, RN, WC, CGC, TDI
JanRod's Over Easy, WC, CGC, TDI x Ch. Sureshot Ready Aim Fire
OFA Hips Good LR-133080G25F-PI, OFA Elbows Normal LR-EL19203F25-PI
OFA Heart Clear by Echocardiogram- LR-CA936/80F/C-PI-ECHO
UMinn Dynamin-1 genotype E/E
Pictured below at 5 1/2 years old, after three litters; October 2006
Diva started it all for me, and boy did she set the bar high! Her breeder bred to my first dog, Easy, and kept Diva as a show prospect. When she was about six months old, her breeder decided to sell her and offered her to me. I had no idea what a ride we'd take, but immediately jumped at the opportunity to have Easy's daughter from his only litter at that time. She finished her championship as a two-time Specialty Winner's Bitch, with points under three breeder-judges and a five point major at the 2006 National Specialty, under Virginia Lyne and Connie Barton, and went on to earn her Junior Hunter owner trained/handled.
Diva produced several nice litters for me, including my first Bred-By-Exhibitor champion, Twister (Ch. LegaSea's Texas Tornado, JH) and I see her influence in her grandkids and now great-grandkids.
July 2004 Diva earned her first two points by going BOS over a special under breeder-judge Erik Bergishagen (Jagersbo),
and the next weekend picked up two more singles under all breed judges Jon Cole and Edd Bivin
October 2005 Diva earned her first major owner-handled under Liz Muthard
October 11-14, 2006 Diva was successful in every event she entered at the National LRC Specialty in St Louis!! On Wednesday, she titled in Rally Novice with a score of 95!! On Thursday, she earned her second major at the LRC National Specialty under Virginia Lyne. She then went on to win Brood Bitch with Bonus and Aria behind her under Connie Barton!!! And on Friday, she went Best of Winners under Connie Barton. Then, Saturday, she earned her first leg on her JH!! Diva and three of her get all earned the "Dog For All Reasons" award for conformation, obedience and performance. We're proud of our girl's brains and beauty, her ability to pass it on to her get and the dedicated owners of her get!
October 27, 2006 Diva finished in grand style by going Winner's Bitch at the Heart of Texas LRC under breeder/judge Jill Ickowski!!!
February 2, 2007 Diva finished her Junior Hunter Title, four for four without being force fetched!
February 18, 2007 at SDLRC's Annual Specialty, Diva earned a JAM and was Best Hunting Retriever under Lisa Weiss Nolechek (Lobuff)
September 21, 2007 the first time specialled at an all-breed show, Diva was BOB over top winning dog specials, under Liz Muthard.
October 28, 2007 at HOTLRC's Annual Specialty, Diva earned a JAM under Barb Gilchrist (Blackthorn) and her daughter Twister was Best Opposite Sex in Sweeps!
October 24, 2008 at HOTLRC's Annual Specialty, Diva was Best Veteran, earned a JAM, was Best Brood Bitch and Best Opposite Sex in Veteran Sweeps! Three of her daughters also won their classes (BBE, American Bred and Open Yellow)
October 29, 2010 at HOTLRC's Annual Specialty, Diva earned a JAM from the Veteran 9 and up class from Lisa Weiss, Lobuff Labradors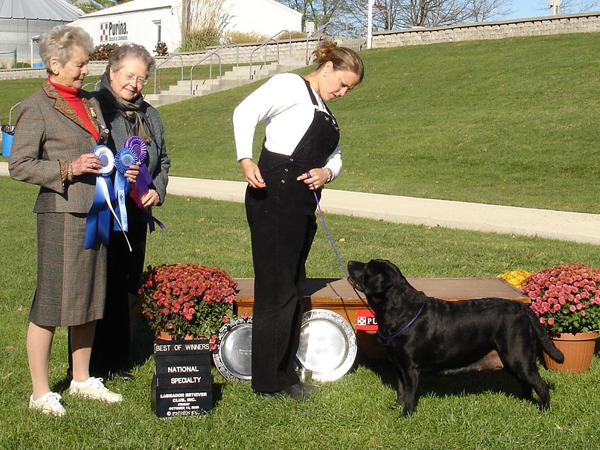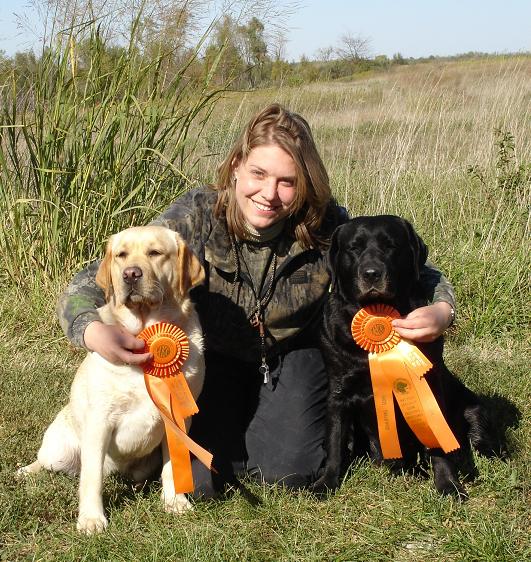 Diva making the cut at SDLRC in February 2004:
Diva at 17 months taking 2 points under Erik Bergishagen at Santa Barbara KC: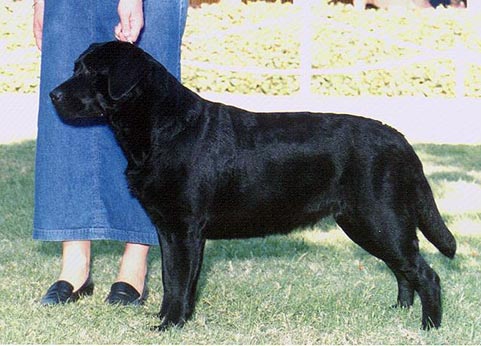 Sire: JanRod's Over Easy, WC, CGC TD

Optigen Normal/Clear

Major pointed, Specialty Winner

Sire: BISS Ch. Dickendall Arnold

Sire: Ch. Dickendall's Ruffy

Sire: BISS Ch Receiver of Cranspire

Dam: Ch. Moorwood Jewel

Dam: Dickendall A-Ha

Sire: BISS Ch. Marshland Blitz

Dam: Dickendall Rose Royce

Dam: BISS Int (FCI) Am, Mex. Ch. Janneka Way's Sunny Side Up, TT

Optigen Normal/Clear

Sire: Tweedledum Brookland Savoy

Sire: Guideline's Copyright

Dam: Ch. Jayncourt Jingle Jangle

Dam: JanRod's Kissing Cousins

Optigen Normal/Clear

Sire: BISS Ch Janwood Tigger Tremayne

Dam: JanRod's Sunshine Calypso

Dam: Ch. Sureshot Ready Aim Fire

Sire: BISS Ch. Raintree's Slippery When Wet

Optigen Normal/Clear

Sire: Rocheby Yorkshireman

Sire: Eng Sh Ch Rocheby Royal Oak

Dam: Rocheby Polished Oak

Dam: Rickways Braemar Black Ice

Sire: BISS Ch. Dickendall Arnold

Dam: Drakemoor's California Dreamin'

Dam: Kimbro's Matilija Poppy

15 points with 8 major reserves

Dam of champion, Specialty winning and search and rescue get

Sire: Wingmster's Just Another Fella

Sire: Wingmasters Yellow Fella

Dam: Jennifer's Sugar Kane Lady

Dam: Cranspires Chessa

Sire: BISS Ch Receiver of Cranspire

Dam: Ch Bannerbee's Butterscotch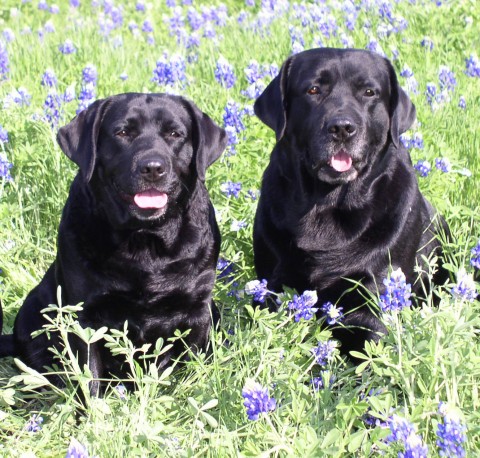 Diva with her father, Easy, in the Bluebonnets
Diva earns her Working Certificate in 100 Degree heat with no training!!
DIVA * GUSSIE * HALLE * TWISTER * JULEP * BEBE * COVEY * BRINKLEY * PAIGE * JOY * SOPHIE
ABOUT US * THE BOYS * THE GIRLS * PUPPIES
BRED BY * PHOTO GALLERY * PHOTOGRAPHY * LINKS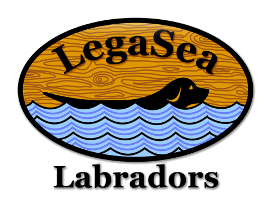 Copyright © 2003 - 2018 All rights reserved. The content on this website is not public domain.
Please do not download or copy our graphics.