Ch. Dickendall Buckstone Zane x Ch. Sureshot Hyspire Born Ready, JH, RN, WC, CGC, TDI
OFA Hips Good LR-174907G24F-PI/Elbows Normal LR-EL39293F24-PI
OFA Heart Clear by Echocardiogram LR-CA2802/19F/C-PI-ECHO
Twister's 'joie de vivre' and ever-exploring nose ultimately took her life, when she ingested a moldy suet block that the wind or a critter moved to the neighbor's pasture this spring. She was on our morning walk and took a diversion as she often would do, to go for a swim or find a ball or toy left on a previous adventure. I hadn't realized what exactly she had eaten at the time, and by the time the aflatoxin poisoning reached her liver, it was too late to save her, leaving a huge hole here at LegaSea.
Twister earned her JH in March 2009, finished her championship from the BBE class in March 2014, and her Dock Novice title in June 2014. Twist joined the Baylor AAT program in 2013 and was a regular volunteer at the hospital as a Therapy Dog, with her last visit just days before she passed. She will be sorely missed by all who so enjoyed that smiling face and wagging tail bedside.
Twister had a beautiful and talented mother, Ch. Sureshot Hyspire Born Ready, JH, RN, TDI and has been an influential producer as dam of three champion littermates: Am GCH Ch/Can Ch LegaSea's Not In Kansas Anymore, JH, RN, THDN, Ch. LegaSea's Bcuz Bcuz Bcuz Bcuz Bcuz, and Ch. LegaSea's Courageous Lion, CDX, RAE, and now their kids are continuing the tradition and are finishing and titling in the field as well.
Twister's genes are strong and I'm happy to see her kids and grandkids with the same kind expression and biddable temperaments. From left to right: Twister's specialty winning granddaughter Laney (by Duke, 18 months), Twister (age 9), and Twister's champion daughter BeBe (5 years)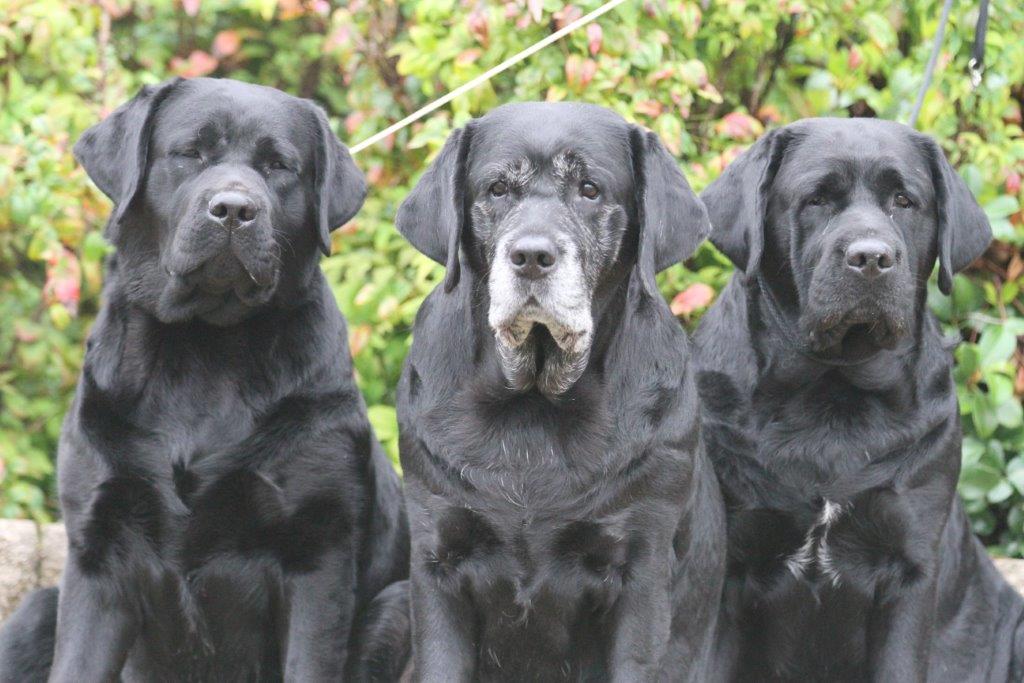 And Twister with her mother and grandfather... the apple doesn't fall far from the tree!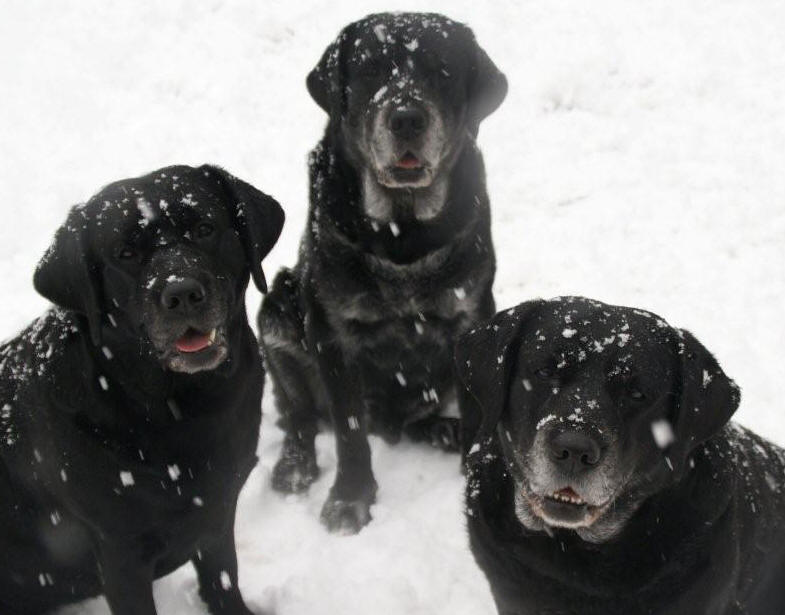 Pictured below at four years, October 2010:
Ch. Dickendall Buckstone Zane

Ch. Dickendall Arnold

Ch. Dickendall Ruffy SH
Dickendall A-HA
Dickendall Buckstone Toodaloo

Fn. Ch. Caveris Kan-Nibal
Dickendall Tiger Too
Ch. Sureshot Hyspire Born Ready, JH, RN, WC, CGC, TDI (Specialty Winner)

Optigen PRA Carrier

JanRod's Over Easy, (Specialty Winner, major pointed)

BISS Ch. Dickendall Arnold
BISS Am, Int (FCI), Mex. Ch. Janneka Way's Sunny Side Up, TT
Ch. Sureshot Ready Aim Fire

BISS Ch. Raintree's Slippery When Wet, JH
Kimbro's Matilija Poppy
Twister with her kids, Ch LegaSea's Bcuz Bcuz Bcuz Bcuz and GCH Ch LegaSea's Not in Kansas Anymore, JH winning the brood bitch trophy I donated in honor of her mother, Ch. Sureshot Hyspire Born Ready, JH at DFWLRC with friends handling for me!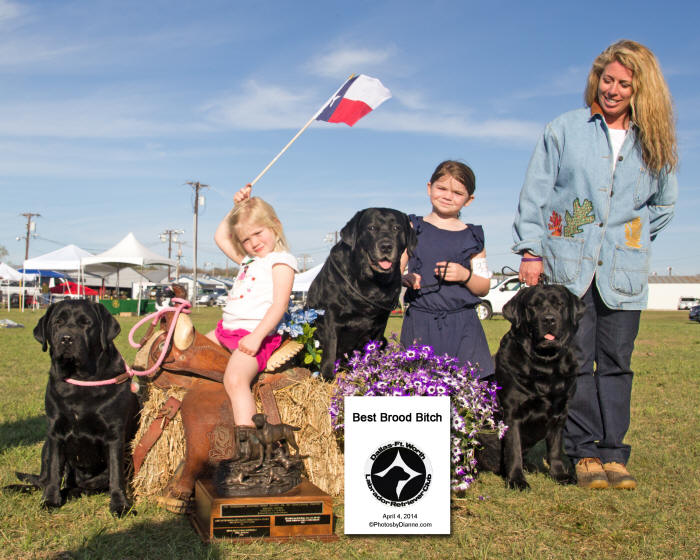 Twister winning Best Hunting Retriever and a Judge's Award of Merit at DFWLRC at age 8 with her 8 year old friend Avery handling her-- what a team!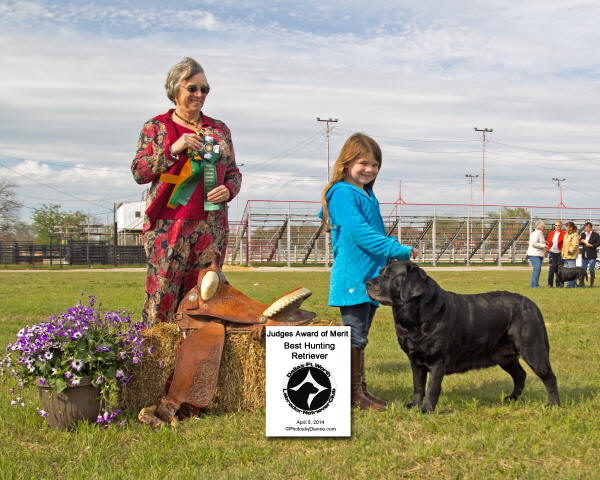 In her very first dog show, at just over 6 months old, Twister was Best Puppy and RWB to her half-sister, Aria!!!
As a 17 month old puppy on October 26, 2007-- Twister was Best of Opposite Sex in Sweepstakes at HOTLRC and she finished her championship breeder/owner/handled from the BBE class.
After retirement from their show and working careers, the homebred Ch/JH team of Twister and Bugle brought smiles to many faces, and since she would happily wear antlers, Twist was invited to be one of Santa's Reindogs at the annual Christmas party. Bugle and Twister's son Duke will continue the legacy now that Twister has passed.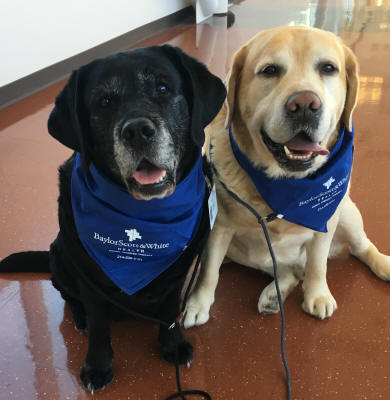 Pictured below at 14 months, June 2007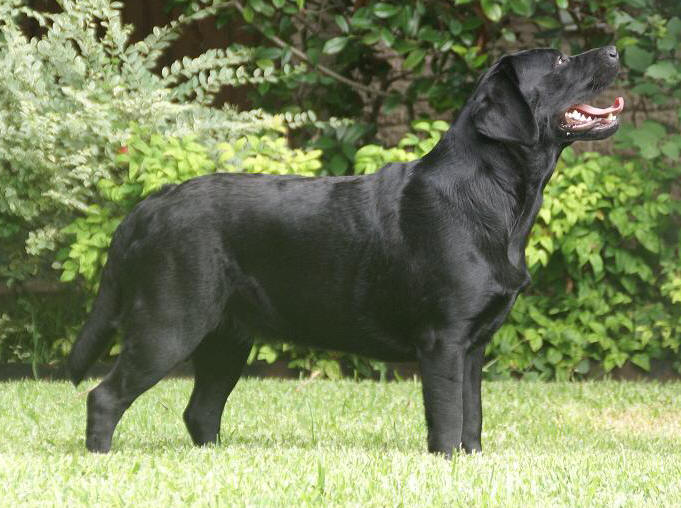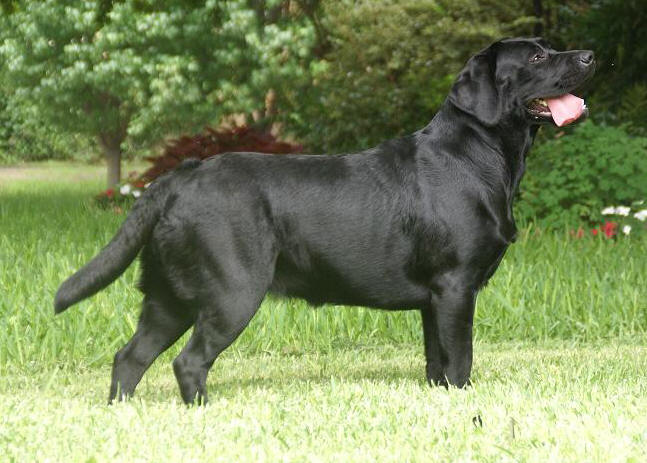 Pictured below at 14 weeks: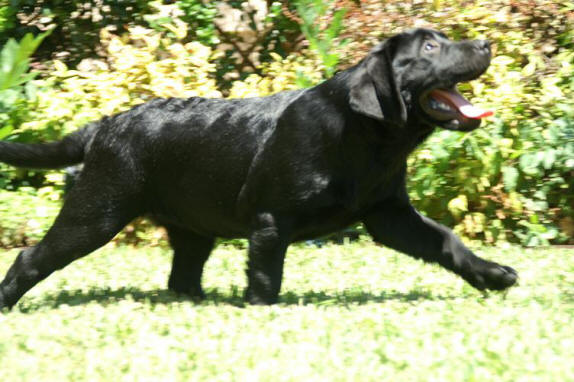 And her favorite place to be Summer 2006: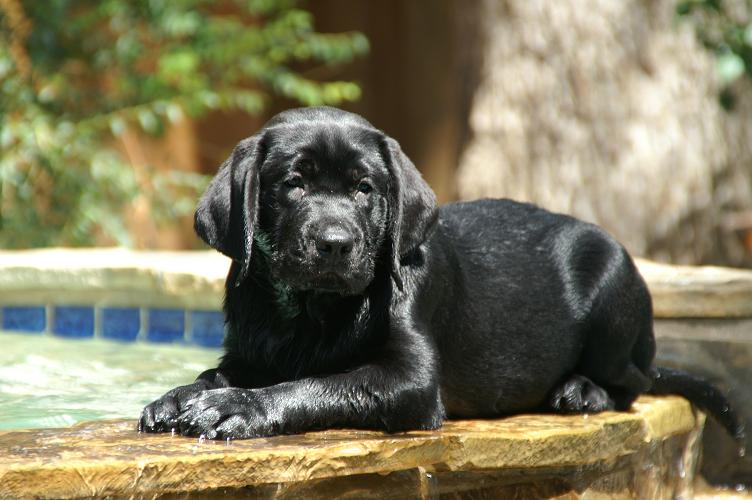 As a baby: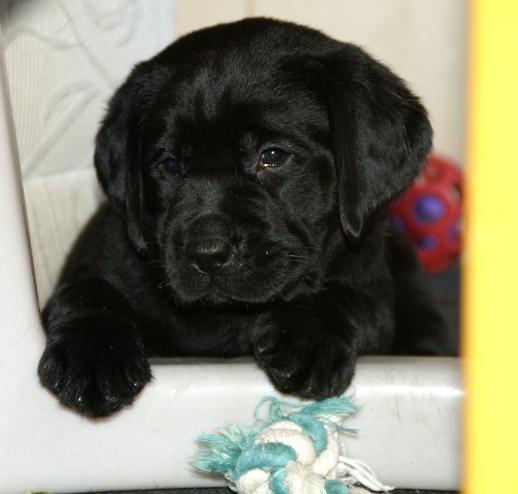 Twister's sister... LegaSea's Texas Two Step at 14 weeks: