LegaSea's All Gussied Up, JH, DN, RN, WC, CGC, TDI
Ch. ShadowGlen's Augustus, CDX, JH, RE, CGC, WC, TDI x Ch. Sureshot Hyspire Born Ready, JH, RN, WC, CGC, TDI
OFA Hips Excellent LR-163591E37F-PI, OFA Elbows Normal LR-EL32849F24-PI
OFA Heart Normal by Echocardiogram LR-CA2028/37F/C-PI-ECHO
UMinn Dynamin-1 genotype E/N
Yellow (not carrying chocolate)
At over 11 years old, Gussie is spayed and retired to the couch, and takes her job as grannie/auntie to the next generations very seriously! When planning the litter, I hoped to name one of the pups "All Gussied Up" to combine her father's name, "Gus" with a diva-like name. This girl fits the name-- she's dressed and ready for a party when you are! Gussie is trouble (and was almost named that!)-- she's cute and she knows it!
Gussie is an avid retriever and passed her JH easily. At age 9.5 she earned her Dock Novice title along with her daughters Kizzy and Julep, grandsons Gibbs, Risky and Cinch, while her son Bugle earned his Dock Junior title! The water-loving gene is strong with this crowd!! She also passed her CGC and Therapy Dogs International (TDI) exams without any training at all!
Photo taken February 2007... two and a half years old
NEWS!!! May 21st 2006, Gussie earns her WC!!! September 2, 2006 she earned her first AKC point from BBE!! October 1, 2006 she earned her second point from BBE... we're on our way!!
Gussie finished her Rally Novice title and got her first JH leg at the National, October 2006!!
October 21-22 2006-- Gussie got her second and third leg on her JH!!
October 27, 2006-- Gussie placed second in BBE at the HOTLRC Specialty under Jill Ickowski!
November 4, 2006-- Gussie earned her Junior Hunter title in four for four tests!!!
October 25, 2008-- Gussie won the Open Yellow class at HOTLRC under Clare Senfeld!
19 months old, in the field: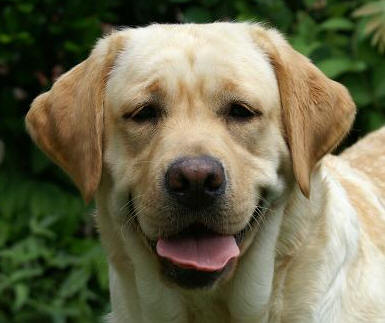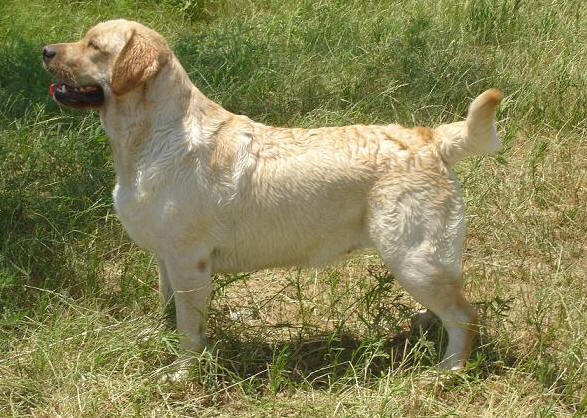 Sire
Ch. ShadowGlen's Augustus, CDX, JH, RE, CGC, WC, TDI

Optigen PRA Normal/Clear

Sire:

Sire: Ch. Lenches Gallivant
Sire: Eng Sh. Ch.Sandylands Gadabout
Dam: Lenches Tip Top
Dam: Ch. Deer Runs Sweet Caramel Cream
Sire: Ch. Hunt Club Hennings Mill Gino
Dam: Borador's Sweet Charity
Dam: Ch. ShadowGlen Dunraven, UD, JH, RE, CGC, WC, TDIAOV

Sire: Ch.Hunt Club Milo
Sire: Ch. Hennings Mill Caruso
Dam: Hunt Club Show Stopper
Dam: ShadowGlen's Willet, CDX, CGC, TDIA

Sire: Ch. Tabatha's Drifter at Dickendall
Dam: ShadowGlen's Baltic Kestrel, CDX, WC
Dam
Ch. Sureshot Hyspire Born Ready, JH, RN, WC, CGC

National Specialty Winner 2006, both majors

Optigen PRA Carrier

Sire: JanRod's Over Easy, WC

Specialty Winner, major pointed

Optigen PRA Normal/Clear

Sire: BISS Ch. Dickendall Arnold
Sire: Ch. Dickendall's Ruffy, SH
Dam: Dickendall A-Ha
Dam: BISS Am, Int (FCI), Mex. Ch. Janneka Way's Sunny Side Up, TT
Sire: Tweedledum Brookland Savoy
Dam: JanRod's Kissing Cousins
Dam
Ch. Sureshot Ready Aim Fire

Sire
BISS Ch. Raintree's Slippery When Wet, JH
Sire: Rocheby Yorkshireman
Dam: Rickway's Braemar Black Ice
Dam
Kimbro's Matilija Poppy
Sire: Wingmaster's Just Another Fella
Dam: Cranspire's Chessa
At the Greater Atlanta LRC Specialty, Gussie was 2nd under Laura Reich in 15-18 month sweeps, and was pulled both days in the 12-18 regular class under Marion and David Hopkinson!
At the DFWLRC Specialty, Gussie placed 2nd in 15-18 sweeps under Mary Roseberry and 1st under Rusty Howard, and was pulled for Best in Sweeps. Then, in the Bred-By class, she was 4th under Lisa Weiss and 3rd under Diana Beckett behind the 1st and 2nd place winners of Potomac's BBE Yellow class!! Not too shabby for a 17 month old!! :)
I took Gussie it out to the field for the first time, June 2005 and she loved it!
Yes, princesses do wear pink even in the field, in case you're wondering!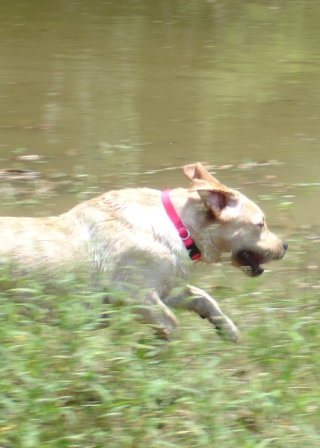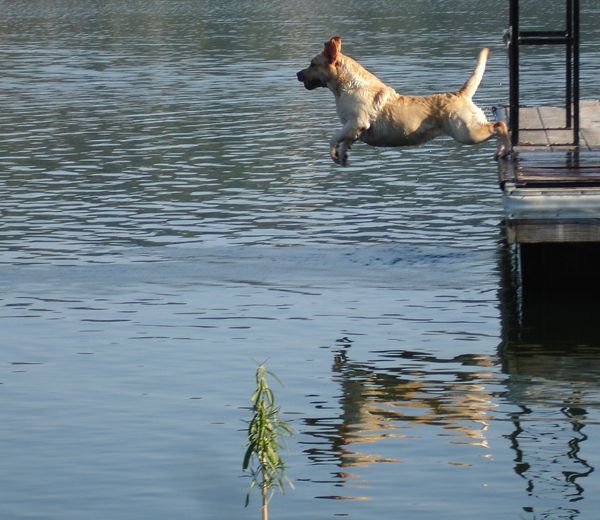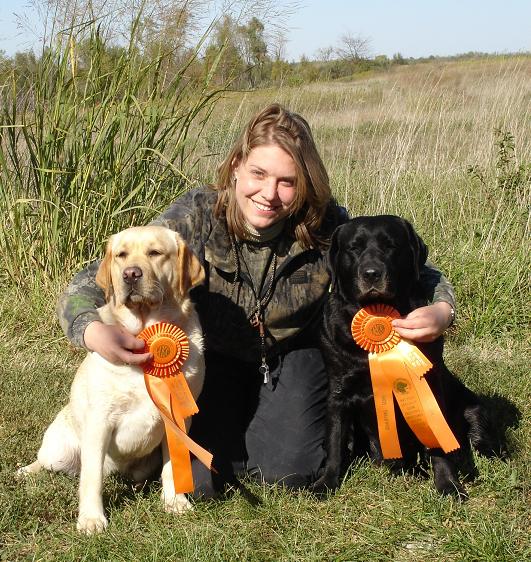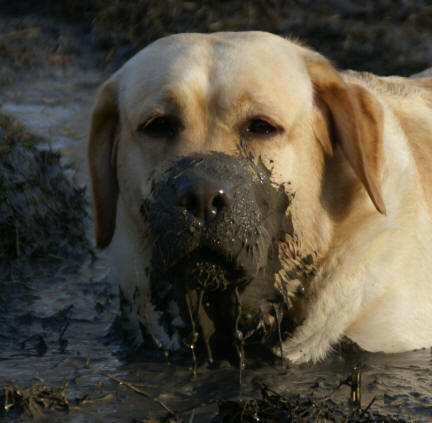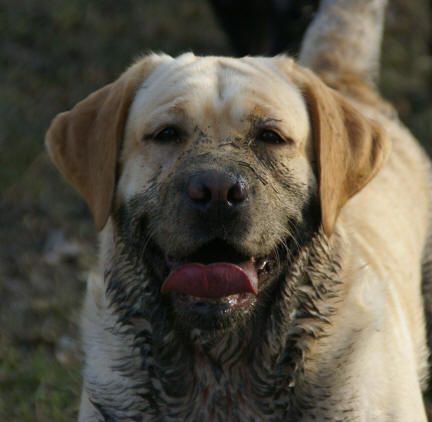 Gussie has had two litters, by Ch Sureshot Hyspire Impressive, and by Am/Can Ch Shannon's Peppar Salty Dog:
Angus, Tucker, Melody, and Kizzy
Ch. Sureshot Hyspire Impressive x "Gussie"
DOB 4/13/07
LegaSeas's Run For The Roses, "Julep" Ch. LegaSeas's Call to the Post, JH "Bugle" LegaSeas's Switching Saddles,"Calvin"
Am/Can Ch. Shannon's Peppar Salty Dog x "Gussie"
DOB 5/2/09
DIVA * GUSSIE * HALLE * TWISTER * JULEP * BEBE * COVEY * BRINKLEY * PAIGE * JOY * SOPHIE
ABOUT US * THE BOYS * THE GIRLS * PUPPIES
BRED BY * PHOTO GALLERY * PHOTOGRAPHY * LINKS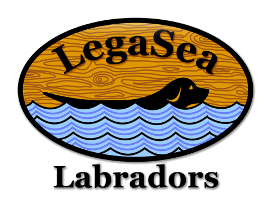 Copyright © 2003 - 2018 All rights reserved. The content on this website is not public domain.
Please do not download or copy our graphics.