Ch. LegaSea's Icing On The Cake, JH, CGC
Ch. ShadowGlen's Augustus, CDX, JH, RE, CGC, WC, TDI x Ch. Sureshot Hyspire Born Ready, JH, RN, WC, CGC, TDI
OFA Hips Good LR-163794G24M-PI
OFA Elbows Normal LR-EL32971M24-PI
OFA Heart Normal LR-CA2030/15M/C-PI
Entire litter ACVO 12/15/04; CERF LR-41148/2007
Bonus is owned and loved by Patti and Larry Simmons, Reed Creek Labradors, in Hartwell, Georgia.
June 2008: Unfortunately, Bonus is not producing sperm at this time and is not available at stud.
Bonus is pictured below at 2 years old!!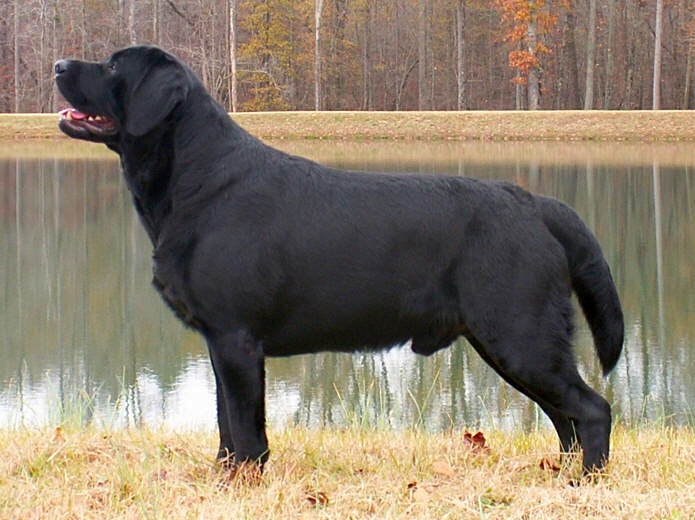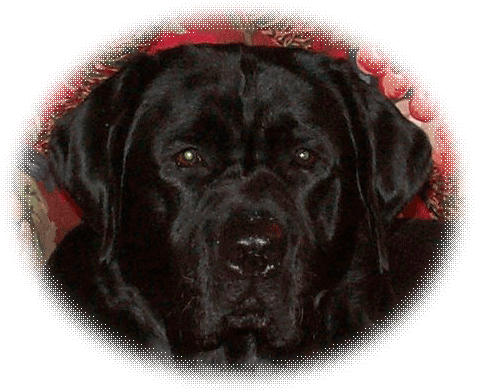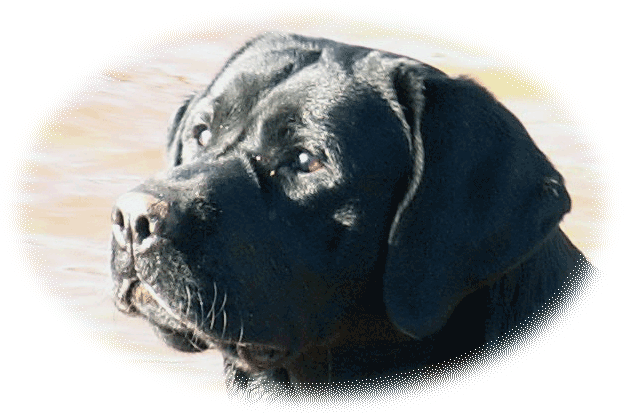 Bonus finished his Junior Hunter title with an extra leg to boot on April 29, 2007!!
Bonus earned two more legs on his JH April 14-15 2007... one leg to go!!
Bonus got his first JH leg and first Rally Novice Leg at the LRC National 2006. He and his mother, sister and half-sister each earned the Dog For All Reasons award for conformation, obedience and performance, and he supported his mother in her Best Brood Bitch win!!
August 2, 2006~~ BONUS finishes his AKC championship in style with a BOB over specials and his third major at only 21 months of age!! He finished off the weekend going BOB over specials 4 out of the 5 days, and was BOS the other day!! Pictured below in the ring with Anthony Cantor at the 2006 LRC National Specialty in St Louis:
Bonus is a multiple Best of Breed winner and our first homebred Champion. Thanks to Patti and Larry Simmons, and Anthony Cantor, for his excellent care and handling throughout the journey!
Bonus at 15 months of age in the ring:
Bonus' show highlights:
November 25, 2005 ~ At his first Specialty Show, Bonus won both his Sweepstakes and Regular classes at Papago LRC
December 4, 2005 ~ WD/BOW from the 12-18 class at Imperial Valley KC, judge Barbara Dempsey Alderman for his first two points!!
February 3, 2006~ WD at Sawnee Mountain KC, judge Houston Clark
February 4, 2006 ~ WD at Conyers KC, judge Dana Cline
June 3, 2006 ~ WD and first MAJOR under Everett Dean, Jr.
July 29, 2006 ~ WD and second MAJOR (4 points) under Betsy Horn Humer
August 2, 2006~ WD/BOW/BOB and third MAJOR under Everett Dean, Jr to finish his championship!
August 3-6 ~ BOB three days and BOS the fourth day at the Roanoke, Va cluster-- all major entries!
Ch. ShadowGlen's Augustus, CDX, JH,RE, CGC, WC, TDI

Ch. Lenches Gallivant
Eng Sh. Ch.Sandylands Gadabout
Lenches Tip Top
Ch. Deer Runs Sweet Caramel Cream
Ch. Hunt Club Hennings Mill Gino
Borador's Sweet Charity
Ch. ShadowGlen Dunraven, UD,JH, RE, CGC,WC, TDIAOV
Ch.Hunt Club Milo
Ch. Hennings Mill Caruso
Hunt Club Show Stopper
ShadowGlen's Willet, CDX, CGC, TDIA
Ch. Tabatha's Drifter at Dickendall
ShadowGlen's Baltic Kestrel, CDX, WC
Dam
Ch. Sureshot Hyspire Born Ready, JH, RN, WC, CGC, TDI

JanRod's Over Easy, WC, CGC, TDI
BISS Ch. Dickendall Arnold
Ch. Dickendall's Ruffy, SH
Dickendall A-Ha
BISS Am, Int (FCI), Mex. Ch. Janneka Way's Sunny Side Up, TT
Tweedledum Brookland Savoy
JanRod's Kissing Cousins
Ch. Sureshot Ready Aim Fire
BISS Ch. Raintree's Slippery When Wet, JH
Rocheby Yorkshireman
Rickway's Braemar Black Ice
Kimbro's Matilija Poppy
Wingmaster's Just Another Fella
Cranspire's Chessa
When Bonus' mother, Diva, was whelping this litter, she had eight puppies and seemed to be through. I palpated her and didn't feel another pup, so I got the approval to give her a pitocin shot and waited as she had six contractions, then settled down with her new litter. We cleaned up the box and all the supplies and were so thankful to have a nice litter of healthy pups, when two hours later, Diva whelped this little guy! He must have been far up under her ribcage and took that long to come down! He was my Bonus pup from the start-- truly Icing on the Cake!
Bonus with his heroes, Olé and his grandpa Easy at Potomac 2005
This picture was taken during Patti and Bonus' very first time in the ring at a match when he was 5 months old!
When he's not in the show ring, he's happily retrieving bumpers with his "sister" Keeper and "brother" Josh in Lake Hartwell, GA!!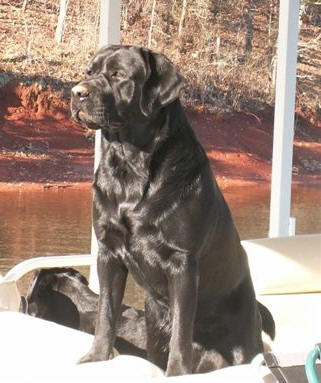 Bonus acts as "Captain" on the boat ride out to the Island... and he SWEARS he wasn't digging in the dirt. We believe him...
EASY * DAPPER * BUDDY * JACK * BONUS * BUGLE * OLE
ABOUT US * THE BOYS * THE GIRLS * PUPPIES * PHOTO GALLERY * LINKS * NEWS