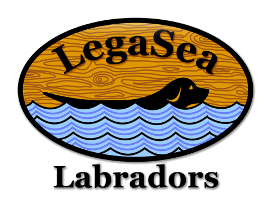 I am a hobby breeder currently living in the Dallas metroplex, Texas, but my start in Labradors came while living in Southern California. Easy is my first show dog (on left above), and he is the one that got me hooked on the breed by going RWD in the first specialty we entered, going WD/BOW at the third one I entered him in, and consistently placing in others. The house is currently filled with his grandchildren and great-grandchildren, coming down from his daughter Ch. Sureshot Hyspire Born Ready, JH, who was the foundation on which my breeding program has grown. I was honored to have the opportunity to stand Olé (on right above) at stud and show him in the US in 2005-2006.
All of the dogs at LegaSea share my home with me. While there is a small kennel, the dogs only use it if no one is home for an extended time. Although they enjoy taking in the fresh air, all of the dogs are house dogs and spend much of their day inside with me. I am fortunate to be able to work from my home, and spend the majority of the day with my dogs. Most nights I will have at least two dogs on the bed, and usually another one or two will snuggle in just before daybreak, with the others within tripping distance! We go for walks through the neighborhood as well as make frequent trips to the lake and nearby parks, and of course enjoy the backyard swimming pool year round.
I believe that all Labradors should be natural retrievers and versatile sporting dogs. Almost all of my Champions also have a Junior Hunter title and many are therapy dogs and have additional performance titles.
The following titled dogs have been owned by me, and the majority have been shown and titled by me:
BISS Ch. Ole, JH
Ch. Sureshot Hyspire Born Ready, JH, RN
Ch. Safari's Dapper Dan at LegaSea, JH
Ch. LegaSea's Icing on the Cake, JH, RN
LegaSea's All Gussied Up, JH, DN
Ch. LegaSea's Texas Tornado, JH, DN, RN
Ch. Matilija Make Mine a Dbl at LegaSea, JH, CDX, DN
Ch. LegaSea's Call to the Post, JH, DJ, RN
Am GCH Ch./ Can Ch. LegaSea's Not in Kansas Anymore, RN, JH
Ch. LegaSea's Bcuz Bcuz Bcuz Bcuz Bcuz, JH
Ch. LegaSea's Couldn't Be Easier, JH, DN
LegaSea's Run For The Roses, DN
LegaSea's Caviar Dreams, CD, JH
LegaSea's Size Doesn't Matter, RN
LegaSea's Take Cover, DJ
GCH LegaSea's Cover Story
GCH LegaSea's Winning Ticket, CDX
Ch. LegaSea's Be Good, JH
Ch. LegaSea's Bcuz I Said So
I rarely sell dogs to other breeders, but the following titled dogs were bred by me and loved by others:
Ch. LegaSea's Courageous Lion, CDX, RAE
LegaSea's Chances Are, CD, RAE
HIT LegaSea's Serendipity, UD
LegaSea's Steer Clear, SH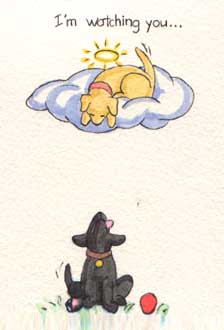 In Memory of Klassic Honeysuckle Rose, CGC Easy came into my life when I lost Honey in 2000.
July 1, 1997 - December 8, 2000 This is a friend's watercolor of Honey
The Kennel name "LegaSea" was derived after I lost Honey in 2000. Honey and I lived 1 block from the beach, in Hermosa Beach, just outside Los Angeles and Honey loved to go swimming in the Pacific whenever I could get to Huntington Dog Beach! My introduction to the Labrador fancy was all by chance, when I unexpectedly lost Honey to acute pancreatitis and wanted a black dog to warm my feet. Easy filled the emptiness in my heart and Honey's "Legacy by the Sea" was started. We've since moved far from the sea, but the LegaSea continues in Texas.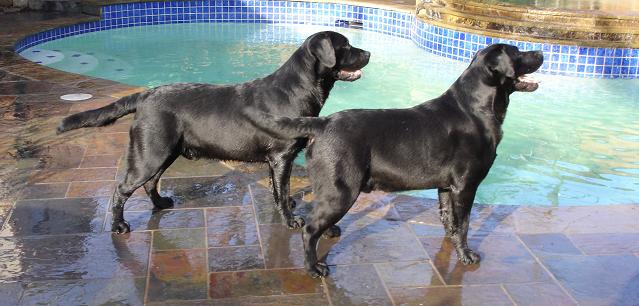 Two peas in a pod-- Dapper and Olé by the pool, February 2005
In Spring of 2005, I converted my chlorinated pool in my previous home into a saltwater pool with a Gold Line Aqua Rite Salt Chlorinating System. The Aqua Rite uses common salt (the same salt used in water conditioners) and converts it into "free" chlorine. The chlorine sanitizes the pool and then reverts back into salt, so it does not require the maintenance of a chemical-sanitized pool. It's not "salty" like the ocean, but has the same pH as saline, so you can swim with your eyes open underwater and it won't hurt the dogs either. With only a teaspoon of salt per gallon, the Aqua Rite produces enough fresh chlorine to keep a 40,000-gallon pool clean without the chlorine smell. The dogs' coats don't dry out and that lingering smell of chlorine on the dogs, towels, bathing suits and patio are gone! I don't work for the company, but I'm a believer in the system and wish I'd done it earlier!! My current pool is designed for the dogs and is also salt water, and they enjoy it year round!!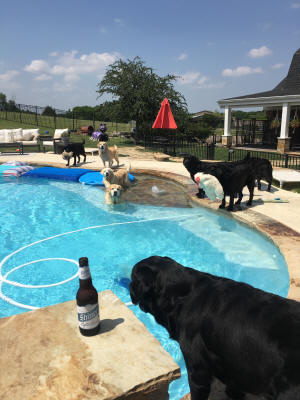 I am a 'one woman band' and I whelp all litters, train and show all the dogs myself, usually from the Bred By Exhibitor class as a hobby. I only breed when I am ready for another show prospect, and do not sell to other breeders. I have a full time job that requires me to travel so until I can retire, my breeding program is small and focused.
Multi Ch. Olé came to stay with us in January 2005 through April 2006. He earned his championship with two specialty five point majors, RWD at a third specialty, and two all breed group placements. He was Best in Specialty Show from Open Black under Betty Graham at DFWLRC in 2005 and he also earned his Junior Hunter title while here. In addition to just being a wonderful dog, Olé introduced me to his owner, Anne-Charlotte Dreyfus, and all the European breeders who share similar values and visions for the future of our breed.
The year 2006 brought three champions to my breeding program, including my first homebred Champion. To top it off, Bonus and Dapper finished their championships at the same circuit! October of that year, I loaded up four dogs and headed to the National in St Louis!! My goal was to earn Dog For All Reasons awards for all the dogs, and to my incredible surprise, five year old Diva was Winner's Bitch and Best of Winners and also brought home Best Brood Bitch honors!!! Gussie, Diva and Bonus each earned a JH leg; Gussie and Diva completed their RN titles, and Bonus got a leg on his RN; Aria completed her CD; and Aria qualified in Open Agility and Rally Advanced, with first place honors!!!! As I'd hoped, Diva and her three offspring earned Dog For All Reasons recognition for competing in performance, obedience and conformation events!! Then, two weeks later, Diva finished her championship at the HOTLRC Specialty, while her daughters Gussie and Halle were 2nd in BBE and 1st in Am Bred! The following weekend, Gussie earned her JH and Diva also passed both days for a total of three legs! 2006 was a good year!!!
In early 2007, Diva finished up her JH and I took her out to San Diego for SDLRC, where she was Best Hunting Retriever and earned a JAM under Lisa Weiss! While she didn't get pregnant that year, her daughter Gussie had her first litter of ten pups by Ch. Sureshot Hyspire Impressive, a dog that I loved the first time I saw him in puppy class at LRCSC! Gussie was a fabulous mother and the pups were all healthy and strong, with Gussie's incredible drive in the field! We spent the end of 2007 picking up some points in the ring with Jack, Twister, and Buddy, and training in the field!
All that training paid off, as in spring of 2008, Dapper, Jack and Carmen each earned their Junior Hunter title. Twister earned three legs and is still waiting for me to be home one weekend and get that final leg! We were thrilled with Diva's final litter by Ch Tremont's Fu Man Chu and kept two pups from the litter, Panda and Finn. Diva had a tough delivery, but bounced back well and cared for her ten pups like the earth-mother she is. When her pups were four weeks old, a friend called to say that a dam with four-day-old pups' was ill, so the pups came over and Diva nursed them as well! Super mom!!! Aria and mom earned their CD and more agility titles, and Jack is on the way to his CD as well! We had a great time at the HOTLRC specialty in October, with three of my four entries winning their classes (Gussie, Halle and Twister) and Diva came home with Best Veteran, a JAM, Best Brood Bitch and Best Opposite in Sweepstakes. Twister also made me proud by winning Best Bred By Exhibitor, a breeder's honor!
In 2009, two of our dogs earned their Junior Hunter titles, Caviar and Twister. Twister also picked up her first major and has gone reserve to two majors, with limited showing. Gussie had her second litter, an all yellow litter by Ch. Shannon's Peppar Salty Dog and the pups have all gone to new homes. Jack earned his CD and Twinkletoes and Halle earned their RNs this summer. In the obedience ring, Aria is well on her way to her CDX and Caviar is on her way to her CD! Chamois, Caviar and Bugle have also picked up championship points with limited showing.
The year 2010 was a somewhat slow year for shows, as I took time to raise Twister's first litter, and also raise a litter for one of my co-owners. I still found time to get Bugle out to some shows and put rally titles on both Bugle and Caviar. Caviar also earned her CD with handler Betsy Arellano. Near the end of 2010, we lost our beloved foundation bitch, Diva. She won an award of merit at the HOTLRC specialty on October 29th and was gone less than a month later. She had a small mammary tumor that had metastasized to her lungs before we could detect it. We all miss her dearly but being surrounded by her kids and grandkids constantly remind me of her unflappable temperament and the influence she had in my small breeding program.
In early 2011, I bit the bullet and moved to a new house in the 'country'!! The dogs and I are just northeast of Dallas on three acres surrounded by horse properties. The dogs are in heaven, and as soon as I can get the house and property customized, I will be too! While I took some time away from the ring and field to get settled in the new house, Bugle picked up back to back majors to finish in June and the fall of 2011 brought majors for Twister and BeBe, and some nice BBE wins for my young boy Duke and a total of five minor points. I'll be looking to round out some championships in 2012.
The first show of 2012 started with a bang, as a co-owned boy, Dakota, picked up his first major! Duke picked up some more points toward his championship, and earned some nice BBE class wins at several specialties.
In 2013, we had two litters in January, born 6 days apart out of Julep and BeBe. BeBe's son Cinch is our keeper and Julep's son Gibbs is owned/loved/trained by my mother Barbara Eberhardt. We were able to hit the ring once the pups were vaccinated and Duke finished his championship from the Bred-By Exhibitor class in October, while Bugle earned two legs on his JH in the fall. Cinch picked up his first championship point and Twister closed in on her final points.
2014 started with one goal: Finishing Twister! Just a month shy of her 8th birthday, Twister got back into tip top shape and finished her championship from the BBE class under breeder/judge Liz Muthard! The following weekend she earned a JAM and Best Hunting Retriever at the DFWLRC specialty under Jan Grannemann, while her son, Duke, earned Select Dog under Cheri Conway. Our first trip to Potomac since Ole was here in 2006 ended up with Duke earning the first JAM under Susan Huntzinger, shown by Carolyn Kellerman. Duke will spend the summer of 2014 in Buffalo, NY with the Harbor Run Labradors and Goldens.
January 2015 welcomed two litters-- Julep's singleton by Scrubs and Covey's five pups by Owen. As a result, the rest of the dogs were on 'lock down' until the pups were vaccinated.... and as soon as they were, I hit the road and took BeBe, Cinch and Duke to Birmingham, Alabama. Cinch earned his first major and Duke was BOB over 6 specials under Liz Muthard, and the following day, BeBe earned her last major, 4 points, over 7 specials to finish her AKC championship! She is the sixth LegaSea bred dog and tenth owned or bred dog to finish! What a nice start to the year!! Duke finished up his Canadian Championship this summer and Cinch finished his AKC championship on October 11th, making him the 7th LegaSea bred champion and tenth champion owned by me!
2016 was a quiet year-- no puppies born at LegaSea, while we let the 2015 'pups' mature. At our speciality, DFWLRC, in April Joy and Paige started their show careers with a bang-- Joy won all four classes (sweeps and regular) and Paige was RWB from Bred-By under Faith Hyndman at just 14 months of age. Later that year, at HOTLRC in Austin the girls came out swinging and this time Joy was WB for her first specialty major, and Paige took WB the following day under breeder-judge Diann Sullivan! HOTLRC is always a special show as it's where Diva finished her championship in 2006, and it was even sweeter to win the trophy I donated in her honor, a decade later, with her granddaughter.
2017 brought BeBe's last litter by Ch Hunt Club Clayview Triple Play due in February. Daughters Sophie and Joy have been consistently winning classes, but now aged out of junior classes, they will take a break from the show ring and play with birds while they mature. One of the keepers from BeBe's final litter, Johnny (LegaSea's Be Good) was Best in Sweepstakes at Shawnee Mission LRC and picked up his first points from the Bred By Class in the fall.
While Johnny and Abe grew up, spring 2018 was a majorly fun time! Paige and Johnny both earned majors in Abilene, then Sophie picked up two majors in Monroe, while Paige, Johnny and Abe each picked up some minor points. In July at the Dallas show, Joy earned her second major under Doug Johnson and sister Sophie was Reserve, and in November Paige finished her championship under Liz Muthard! September brought Brinkley's first litter by Ch. Devonshire's Huckleberry Finn and Sophie's first litter by Ch. Davri's Tabatha's Dutch-- Chance and Saylor are our keepers for the next generation!
Brinkley had her second litter, which was a loose linebreeding on Twister-- Monroe is our keeper and I can't wait to see what she brings. Chance and Saylor went to the Iowa specialty as pups, and Chance came home with a Best In Sweepstakes and both won their classes. At HOTLRC a month later, Chance was awarded RWD again, and won all his classes.
January of 2020, Chance and I flew to Palm Springs for the LRCSC specialty and he came home with a major win, as well as reserve winners dog at the specialty! He had a blast in our old stomping grounds at Huntington Beach, and getting to meet his great grandsire, GCH Saddlehill Late Knight Scramble.... Then, COVID hit and we slowed down a bit, but still hit the HOTLRC specialty in the fall, where Chance again was RWD! In Septmeber 2020, Sophie had her second litter and our keepers Izzy and Sass are looking cute!
2021 started with a bang-- new Champion Chance at the Tulsa show, and Johnny picked up a few more points. We dabbled at a few more shows and Johnny finished his championship in October, making him my fifth BBE champion and earning the Silver Medallion. Paige had a litter in October 2021 by Ch. Wiscoy's the Godfather, and we started back in the field. Johnny passed his Therapy Dog test and is now a working dog at Baylor, Scott and White.
2022 started with Izzy's first major at Nolan River under breeder judge Diane McClurg. Johnny earned his Junior Hunter in April, and Johnny, Izzy and Paige dabbled in UKC Hunt work each earning a Started Leg. Izzy earned her first JH and I am hoping to round out more field titles this fall! Paige passed her Therapy Dog test in July and is now a working dog at Baylor, Scott and White with Johnny. In August, Izzy earned her second major at Arkansas Kennel Club under breeder judge Keri Schooler by going WB/BOW/BOB over specials, while her mother was RWB and Paige was Select Bitch. Not to be outdone by her daughter, Sophie was WB/BOW/BOB over the same entry the second day under breeder judge Gail Shearer.
2023 started off with a bang.... the first show of the year, young Turner picked up her first two points at Nolan River, and then earned her two majors in February 2023, under 18 months from the BBE class. While she grew coat, my goal was to round out Sophie's championship and in March 2023 she earned her last singles under Doug Johnson, and we headed up to Iowa for the Midwest LRC specialty the next weekend. To my surprise, young Bunker at just 6.5 months was Best in Sweepstakes and earned two majors from BBE puppy at his first real show weekend. His dam, Monroe was RWB both days as well, and Sophie was Best Veteran and earned a JAM! Bunker picked up another major in the spring, and then came out in the fall for another Best in Sweepstakes and back to back RWD in September at the Midwest LRC fall specialty, while Sophie earned another Best Veteran and JAM! Izzy came to the fall specialty as well and won her BBE class and then was WB/BOW/BBBE at the Shawnee Mission LRC in October for her third major. The following weekend, Bunker earned his fourth major to finish under Shari Kirshner and then moved up to the specials ring where he earned a JAM under Jean-Louis Blais at HOTLRC the following weekend. We are ending the year with a special litter out of Izzy and will start 2024 with Turner needing five singles, Izzy needing 1 single, and Monroe needing majors. Sophie also joins Paige and Johnny in the local therapy dog program, and Paige got a leg on her Junior Hunter title.
Click on the the header below to see

I am a member of the Labrador Retriever Club of Southern California (LRCSC), Dallas-Fort Worth Labrador Retriever Club (DFWLRC) Labrador Retriever Club of Scotland, and the Labrador Retriever Club (UK)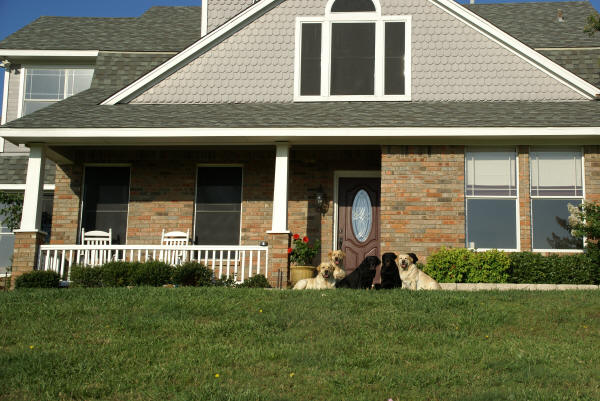 Thank you for visiting!
ABOUT US * THE BOYS * THE GIRLS * PUPPIES
BRED BY * PHOTO GALLERY * PHOTOGRAPHY * LINKS
Copyright © 2003 - 2022 All rights reserved. The content on this website is not public domain.
Please do not download or copy our graphics.