BISS AmCh, EngShCh, CSCh, IBCh, IECh, NLCh, VDHCh, LuCh, Trialer Olé, JH

Photo taken at age 7 and a half, on April 16, 2006 just before catching a plane home to France.
AMERICAN CHAMPION - ENGLISH SHOW CHAMPION - FRENCH CHAMPION - DUTCH CHAMPION - LUXEMBOURG CHAMPION - GERMAN CHAMPION
INTERNATIONAL CHAMPION (FCI) - TRIALER - 2002 EUROPEAN VICE CHAMPION - BUNDESSIEGER 2002
RESERVE CC : CRUFTS 2003 - CC : CENTENARY LABRADOR RETRIEVER CLUB SHOW (GB)
BEST IN SPECIALTY SHOW- DALLAS-FT WORTH LRC 2005 (US)
JUNIOR HUNTER (US) - WORKING CERTIFICATE (US) - CANINE GOOD CITIZEN (US)
NEW 7-23-05... Click here to see a short clip of Olé moving around the pool!
Olé earned his American Championship 6 months to the day after landing in the US!!
He finished in grand style by also earning a Group IV owner-handled!!

Olé in the ring at DFWLRC prior to being awarded BISS by Betty Graham, March 2005
Health clearances:
In Europe: Hips : A/A , Elbows : 0/0 , Eyes : OK 2004
In the US: Click here for a link to OFA's records
Hips, OFA Excellent at 78 months: LR-148658E78M-PI
Elbows, OFA Clear at 78 months: LR-EL25581M78-PI
OFA Heart Normal by Echocardiogram and Color Doppler, OFA LR-CA1476/78M/C-PI-ECHO
ACVO Eye exam 3/5/05, CERF LR-41761/2005--78
Optigen PRA Carrier
DOB: 07.24.1998, Byc, Full Dentition, 23 inches at the withers
Bred by Mrs C. de Mareschal, Owned By Anne-Charlotte Dreyfus
Sire
Ithaque Winds of Toul Diweon

Sire Ch. Lux.Fin.IB Exhibition Man de Saint Urbain

Sire Mardas Maritime Man

Sire: Eng Sh.Ch Mardas Master Mariner

Dam: Timspring Eider

Dam Eng Sh. Ch Lejie Lucy

Sire: Eng Ch. Keysun Krispin of Blondella

Dam: Lindall Miss Molly

Dam Galway du Bois des Lilas

Sire Ch. CS.IB Mardas Marine

Sire: Eng Sh.Ch Mardas Master Mariner

Dam: Mardas Mulled Wine

Dam Duty free de Saint Urbain

Sire: Ch.CS.IB Trial Kupros Macduff at Zanys

Dam: Eng Sh Ch. Lejie Lucy

Dam

click on Maya's picture for more

Sire Ch IB Thurbajen's Minstrel Boy

Sire Eng Sh Ch Poolstead Pipe Smoker

Sire: Eng Sh Ch. Poolstead Preferential

Dam: Poolstead Positive Mistery

Dam Thurbajen's Sheer Charm

Sire: Eng Ch. Trenow Brigadier

Dam: Thurbajen's Sheer Genius

Dam Helice de Malvau

Sire Ch SW IB Gladlab Chase Me Charly

Sire: Eng Sh Ch. Carpenny Chevalier

Dam: Sudeo Carefree of Heatherbourne

Dam Ecoute du Gué de la Reboursière

Sire: Eng Sh Ch./Am Ch.Receiver of Cranspire

Dam: Barinya de Montaval

More details and show results are available on the Labradors de l'Etang Balancet website.
Merci, Anne-Charlotte, for entrusting me with your boy!

Photos Copyright © Bazin
Olé, almost 7 years old playing ball in the yard in Texas!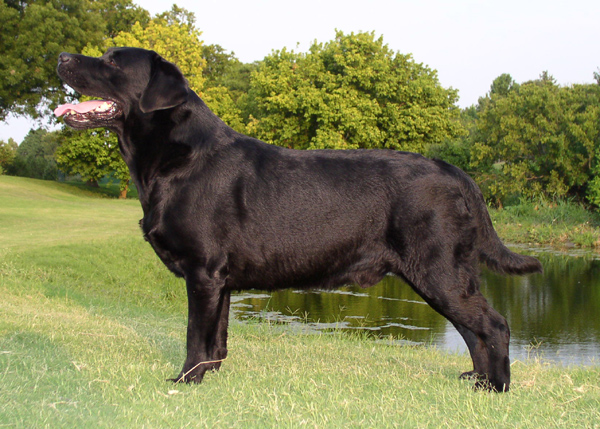 August 1, 2005
In the ring at Greater Atlanta LRC, just prior to being awarded his first 5 American Champion points on 27 February 2005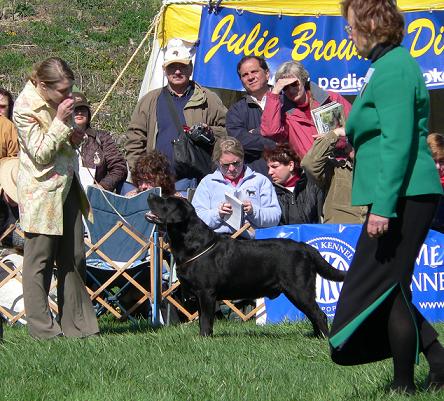 Olé in mid-celebratory jump after being Olé in the ring with Carrie at Potomac during the final cut, 15 April 2005!!
awarded BISS at DFWLRC on 25 March 2005!!!
Olé in Texas, enjoying the ducks in the pond
Retrieving his ducks for the US Working Certificate!!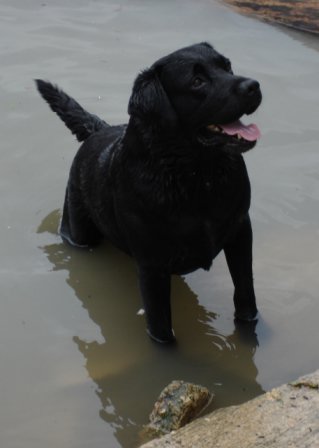 Swimming? Did you say I can go swimming?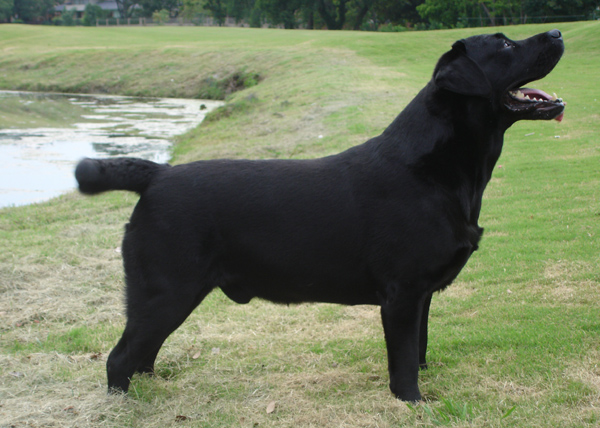 Caught in a moment of rest during a game of frisbee on the summer heat, August 2005....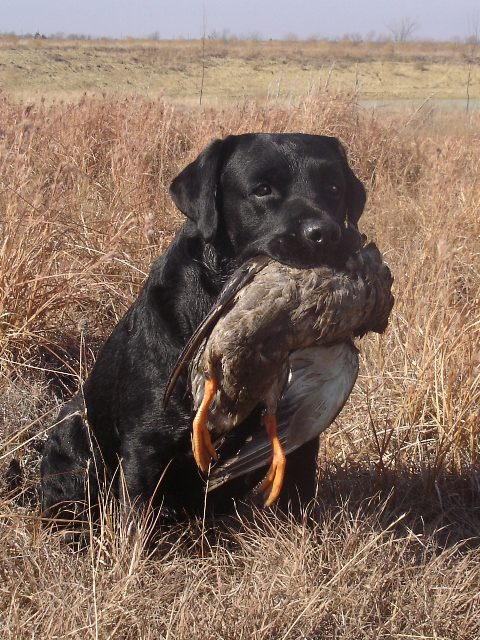 3/30/06 ~ Canine Good Citizen test passed
Waterloo Retriever Club 3/19/06 ~ 4th JH Leg and new TITLE!
Bryan-College Station Retriever Club 3/6/06 ~ 3rd JH Leg
Rose Country Retriever Club 2/18-19/06 ~ 1st and 2nd JH Legs
Nolan River Kennel Club, 1/7/06 ~ Best of Breed ~ Marjorie Martorella, Group IV ~ Arlene Davis
Tyler Texas Kennel Cub, 10/16/05 ~ Best of Breed ~ William Cunningham
Greater Denver LRC, 10/1/05 ~ Best in Veteran Sweepstakes ~ Traci Stinctzcum (Foxhill)
Greater Denver LRC, 10/1/05 ~ 1st Veteran Dog, Final cut in BOB ~ Sheelin Cuthbert (Ballyduff)
Mrs Cuthbert's Critique: "Very good looking dog with lovely head and expression, good reach of neck, good topline with excellent spring of ribs, neat feet and moved well"
Fort Worth Kennel Club, 9/24/05 ~ Best of Breed ~ Maureen Gamble (Nimloth)
Longview Kennel Club, 7/31/05 ~ Winner's Dog, Best of Winners, Best of Breed, Group IV ~ Frank Washabaugh
Denton Kennel Club, 5/14/05 ~ Winner's Dog ~ Jane Roppolo
Denton Kennel Club, 5/14/05 ~ Reserve Winner's Dog ~ Carol Tobin
LRC of Southern California, 4/30/05 ~ Reserve Winner's Dog (to a major) ~ Richard Wiles (UK)
Mr Wiles' Critique: "What a stunning show dog this dog is. Good head, best of necks,
athletic body. He is a delight when on the move and a truly excellent showman
with a lovely temperament. He was well handled. Reserve Best Winners Dog"
Dallas-Fort Worth LRC, 3/25/05 ~ Winner's Dog, Best of Winners, Best of Breed ~ Betty Graham (Graemoor) *5 point major*
Faith City KC, 3/6/05 ~ Winner's Dog, Best of Winners ~ James White
Faith City KC, 3/5/05 ~ Winner's Dog ~ Anna Wanner
Greater Atlanta LRC, Day 2, 2/27/05 ~ Winner's Dog, Best of Winners ~ Virginia Lyne *5 point major*
Greater Atlanta LRC Day 1, 2/26/05 ~ 1st Open Black ~ Margaret Litherland (Oakhouse)
San Diego LRC, 2/12/05 ~ 4th Open Black ~ Margaret Brown (Ramsayville)
San Antonio Kennel Club 2/6/05 ~ Reserve Winner's Dog (to a major) ~ Jim Covey
I first met Olé and his owner, Anne-Charlotte, at the Centenary Show in the UK in June of 2003. They were staying at the same bed and breakfast that a group of us were staying in, so we got a chance to meet him before he took his first CC at the Championship show that weekend. He was quite the character romping on the grass with his toys and saying hello to us all, and when we got a chance to see him standing we were equally as impressed with his structure. Leaving the show that weekend, many of us commented that we'd love to have the opportunity to use him in the US, and I emailed Anne-Charlotte to congratulate her on the win and tell her how much we liked him. She responded with the exciting news that he had finished his English Show Championship in 7 days by taking the dog ticket twice that following week, and our friendship began!!
I also got the chance to see Olé at Crufts in March 2004 and that's when I decided I wanted a puppy of his. The wheels began in motion to get a puppy from Maurice and Gina Givan's breeding of a Eng Sh.Ch. Poolstead Pumpkin daughter to Olé, and I flew to Scotland in September 2004. While in Scotland, we talked more seriously about the prospect of Olé coming to the US to try and earn an American Championship, as well as stand at stud, in 2005-2006. I am fortunate to have had the opportunity to own and love this French love bug. As hard as it was to let him go back home, I know that Anne-Charlotte has missed him during his extended stay with me in the US and I am grateful for the opportunity to have him here.
Frozen semen available in limited quantities, inquiries welcome.
Olé has been tested to be an Optigen PRA Carrier. The prcd-PRA is a autosomal recessive gene. Much like a black dog carrying yellow, a carrier must be bred to another carrier (or an affected) to produce the recessive gene. As a carrier of PRA, Olé will never be affected, but if bred to a carrier or affected dog he could produce PRA. Olé will only be bred to Optigen Normal/Clear mates, and his stud contract has an area in which the bitch owner must initial that he/she understands the significance of the rating. As a breeder who currently has more Carriers than Clears, I am thankful that the Optigen test has been improved and that I can use this tool to ensure that no PRA affected puppies are produced, while improving and maintaining type, temperament, and soundness. prcd-PRA carrying Labradors that are excellent examples of the breed no longer have to be eliminated from breeding programs, by simply selecting to breed to prcd-PRA genetically clear mates.
To learn more about Optigen testing and find out about upcoming clinics, see their website at www.optigen.com.
A .pdf stud packet is available with Olé's clearances, pedigree, and championship certificates here.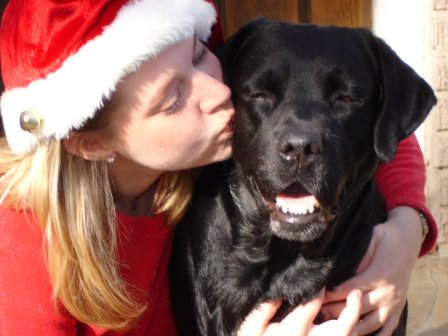 In the ring at Potomac 2006, after making the first cut:
More candid shots of Ole on his final weekend in the US: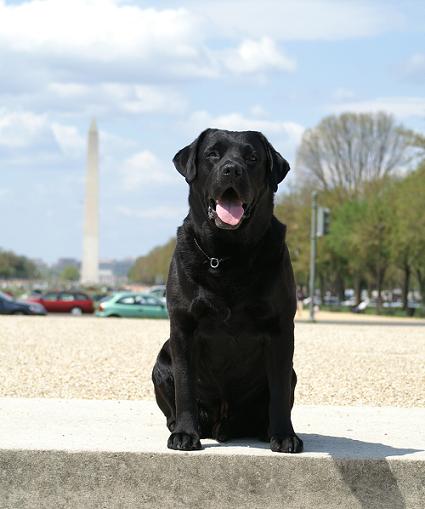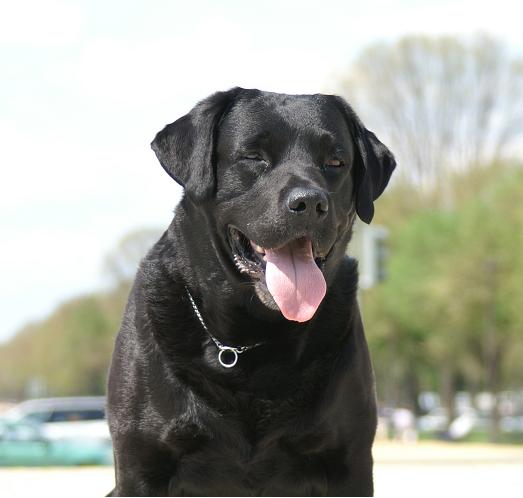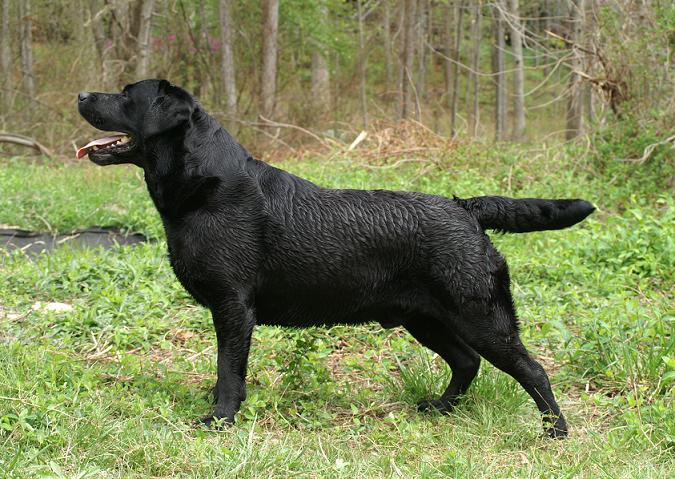 EASY * DAPPER * BUGLE * DUKE * ABE * CHANCE * OLE * RIO
ABOUT US * THE BOYS * THE GIRLS * PUPPIES
BRED BY * PHOTO GALLERY * PHOTOGRAPHY * LINKS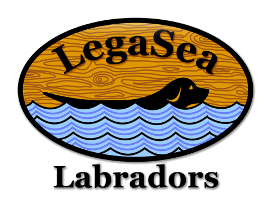 Copyright © 2003 - 2020 All rights reserved. The content on this website is not public domain.
Please do not download or copy our graphics.