<![if !vml]>
<![endif]>
The following document is emailed to my puppy buyers about 3-4 weeks before pups are due to come home.
Here is a list of things that you will need for your new puppy. You can find all of these items at a local pet store, but buying items online is often much cheaper. I buy through a variety of vendors: www.PetEdge.com, www.CareALotPets.com, www.JBPet.com, www.dog.com to name a few. I have included hyperlinks to JB Pets for most of these items out of convenience (I don't get a referral fee!), but feel free to shop around!
BEDS- Puppies WILL urinate on beds. I suggest that your puppy is not given a true "bed" until housebroken. Crate pads or blankets are good alternatives, as they can be easily washed. My adult dogs love Orvis' dog nest, especially the kind with the beads in it. The nice thing about the beads is that you can take the cover off and hose/bleach down the beads and it's good as new again! They sell covers that are chew-proof too, although mine have never chewed up a bed yet! They are only available online, but you can call from the phone at Orvis and they will waive the shipping cost! Also, all Orvis stores are pet friendly, so you can take your pup for an outing to get the bed!! I usually have coupons for the Dallas Orvis store, so ask me if you'd like one! For outdoors and for heavy chewers, Kuranda Pet Beds are great. I buy the 44 x 27 Aluminum beds with vinyl weave-birch forest fabric. The fabrics other than vinyl weave allow water to puddle on them, which I don't like! They have solid piping and the fabric goes into the pipe, so there is no area that is chewable. Places like Costco and Target usually have great prices on soft beds—keep an eye out!
BRUSHES – Labradors do not need to be brushed like other breeds, but it is good to have a brush handy when they are shedding, and to get puppies used to being touched. Only use a soft brush for face and areas likes the legs where the bone is close to the surface. A pin type brush (also called a slicker) can be used for the body. A rubber curry comes in very handy when bathing. The kind I use are made by the Kong company and known as a zoom groom and come in various shapes and bright colors—this is what I use most of the time. They are great for children to use too, as they are made of rubber.
COLLAR - A flat leather or nylon collar is best. "Martingale" type collars are a nice alternative to a choke collar while walking. It tightens up when the dog pulls, but does not have chain on it. I reserve the use of a metal choke or prong collar for training sessions only. Speak to your puppy obedience trainer about the correct size and type for your puppy. While many owners feel that a collar is the best way to ensure that a lost dog is returned to its owner, be careful about leaving a dog with his/her collar on, even in a crate, as tags can get caught between bars and literally hang a puppy. One of the puppies from my 2006 litter was left in the yard without a collar, but his Labrador friend had a collar on. With just a little roughhousing, "Duke" got his mouth around his friend's collar and lost five teeth trying to free himself. His story ended happily, as both dogs are still alive. Oftentimes, an entangling can result much worse. A choke chain should *never* be left on the dog when you are not physically with them. It is too easy to get caught on something and then the dog can choke to death.
CRATE - I prefer the Vari Kennel Original for travel and crate training. It is easy to take apart and clean, is airline approved, and it also has good ventilation. A 400 (Large, 36"x25"x27"H) is the normal size for a lab. If you have a large male or the dog will be in the crate for extended time, a 500 (X-tra large) is best. The soft fold down crates are great for traveling, but a dog should not be left alone in them. They can escape from them or simply roll them to where ever they want to go. Wire crates come in handy for better ventilation in a car, and for a crate at home, but my dogs tend to prefer the "den" feel of the plastic crates as puppies.
DOG HOUSES – While I encourage owners to keep their pups inside and supervised, you may wish to have a kennel run or area outside for your dog to stay while you are gone for extended periods of time. When the dog is outside, he will need some type of shelter from the sun and elements. They make many good dog houses that come in various shapes and sizes. My puppies will chew wooden houses, and the plastic type seem to hold up better. If you are in an area that gets a lot of rain, snow or wind, I like the kind that has the entrance off to one side. It gives the dog better protection from the elements. Plastic doors are great, but tend to get chewed up. If you live in a place that gets hot, a door in the center is better as they get better ventilation. The dog house should be placed in an area where they get shade as the sun beating down on them will heat them up. Costco usually has a dogloo or other types of dog houses available seasonally.
FLEA and TICK CONTROL-- The days of flea collars are gone! I use a topical flea preventive during the summer months and find that a 30 day application is not necessary unless I am in heavily infested areas like woods. I usually apply Advantage or Frontline Plus (for fleas and ticks) every 45 to 60 days in the summer. Since your pup will be growing and these are weight-based doses, you may wish to purchase them singly until your dog reaches full weight. Prices are usually better online, especially when you buy in bulk!
FOOD BOWL - A Stainless steel bowl is best. It's easy to clean and does not break. Glass/ ceramic bowls are also good, but can be broken. Plastic or rubber do not clean as well, are easy to chew and will discolor the nose especially on yellow dogs. The dish does not have to be huge as most labs should only get 1 to 2 cups of dry food per feeding. My adults are fed in 2 qt. dishes, and my puppies are fed in 1qt rubber-bottomed dishes.
GATES- Many of the pet suppliers sell a pet gate, but they are typically identical to child gates, which are often sold at half the price! Check out your local Target or Wal-mart for a child room gate to use to restrict your puppy's access to the kitchen or mud room, or keep him/her out of the living room!
KIDDIE POOL - A small plastic kiddie pool makes a great toy for the dogs in the summer. I fill my pool with water and then put chunks of ice in it. It makes a great place for them to keep cool on those hot days. They will chew on them and I have even had a rescued dog dig a hole in the bottom of one, so I buy several at once. Toys R Us, Target, or Wal-Mart have these available seasonally. Children's sandboxes are great too and tend to be made of heavier plastic-- check your local garage sales for a used one that the dogs will love!
KONGS - Kong products are great for stuffing with treats and keeping them occupied for hours on end. There are all sorts of varieties and sizes, balls, odd-shaped bouncers, etc. I like to mix peanut butter and cheerios or oatmeal together and stuff the kongs. On hot days, I put the stuffed kongs and/or bones in the freezer – sort of a freezer pop for the dogs.
LEASH – Leashes come in all shapes and sizes! I prefer a 6-foot leather or rope lead is best. Chain or nylon can be hard on the hands. It is also nice to have a 25-foot flexi lead for walks.
MISC ITEMS - Old blankets or towels for the crate and bathing. My dogs like bolstered crate pads as well—they come in different colors and sizes and can be taken out of the crate for the pup to know where it is safe/best to relax when he/she is out of the crate too. Fleece blankets are also good. They are easy to wash and dry. Just be careful that your pup does not chew and ingest a towel or blanket. If you have a heavy chewer, the best thing to use is unprinted newspaper.
NATURAL BONES – I place orders from www.PetDeli.com or pick them up at the feed store or dog shows. I also have been treating my dogs with raw bones in the freezer section of the feed store—they love them! These natural bones are great as they cannot chew them up and they keep them entertained for a very long time. They come as smoked or sterilized, and also smaller cross-sections of bone that don't splinter as easily. Sometimes you can find the sterilized leg bones that are stuffed with things like peanut butter or cheese - these are also good as long as they are very hard and not breakable.
NYLABONES - Only get the hard style that is not edible. Mine also like the rubber bone-shaped chew toys and newer multi-surface type, but not the Gumabones that are made of different vegetables, as they can bite off huge hunks that can get caught in the throat or intestines. They will eat those and swallow pieces in no time. Also pig's ears, snouts, cow hooves etc., are not good routine chew things for any dog, although my dogs get them as treats on special occasions. I allow my dogs to have rawhide, but only in small quantities and supervised, as a big chunk of rawhide can easily get swallowed and require an emergency room trip to dislodge it! The newer pressed rawhide bones are a great alternative though. Especially while teething, my pups love a rawhide "chip"!
POOP BAGS - Many pet stores carry clean-up bags in cute little containers that clip on to clothes or leashes and carry about 25-50 bags. They are very handy to take on walks or when you travel with your dog. Metal or plastic "pooper scoops" are the best things for picking up the poop in the back yard. I use a different plastic trash can for the poop than I do for the household trash. It keeps the smell is one place and makes taking out the kitchen trash not such a traumatic event. I then add it to the regular trash on pick up day.
SHAMPOO – I rarely use shampoo on my dogs and just rinse them with a hose if they are dirty, but if you want shampoo, choose a gentle cleaning shampoo like Lambert Kay's Fresh and Clean or Miracle Coat's Shampoo (or even the waterless for cold days). If you take your dog to the groomer, ask for a gentle shampoo. Labradors have a protective outer coat that has natural oils in it. If you strip those oils, the coat can become dry and flaky. Unless they are really smelly, a good hose should be all you need!
TOYS - For out-of-door toys I like tennis and racquetball balls and both plain and fancier rope toys. Check the toys routinely to make sure they are still safe. I like to rotate the toys for the younger dogs and change them often. If you give them too many toys at once, they tend not to play with them as much. My adult dogs love kongs (see above) and the Hol-ee Ball series, especially the one that floats. Alternatively, you can stuff a tennis ball in a regular Hol-ee ball, and it will float too!
For indoors toys they can have endless opportunities of soft fabric toys, plastic ones that make noise and some can be filled with treats. There is a whole line of interactive toys that are really fun for the youngsters to figure out. The soft or plastic toys should not be left with the dogs as they can and do chew them up. Watch for small pieces that they can chew off.
NAIL CLIPPER - Nail clippers come in various styles. I prefer the type that are like scissors over the guillotine type. Find the one that is easiest for you to use and use them often. You may also want to pick up some styptic powder just in case you get one too short (we've all done it!)—it feels like the blood never stops dripping without it! You should not be able to hear the toenails clicking on the floor as the dog walks. If you do not know how to use them, just ask we will be glad to give you a lesson. The puppies have all had their nails trimmed each week while in the whelping box. Remember to massage the foot daily and clip off just a little at a time, so that your pup doesn't fear nail clipping as he matures. Many people like the Dremel nail files. My dogs are used to the clippers, so I haven't bothered to change!
WATER BOWLS - They will need a bowl of water indoors. Outdoors they will need a bucket or bowl that they cannot tip over. It should be large enough so that they cannot play in the water and splash it all out. Buckets should always be hung with two clips so that the pup's head cannot get stuck between the handle and the bucket. Ask me for a demonstration if you can't envision what a problem this can cause! Inside, I also have a raised feeder that I use as a water dish so that the puppies are not inclined to "swim" in it.
ABOUT US * THE BOYS * THE GIRLS * PUPPIES * PHOTO GALLERY * LINKS * NEWS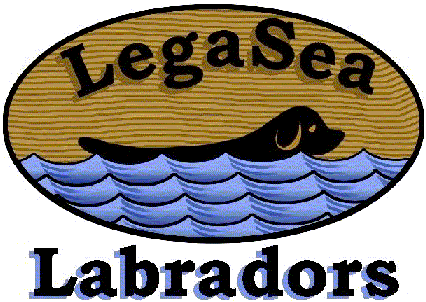 Copyright © 2003 - 2010 All rights reserved. The content on this website is not public domain.
Please do not download or copy our graphics.